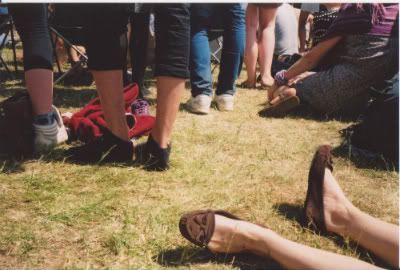 I have never been to Hop Farm before which is a shame considering past acts have included Neil Young. But then again it also had Paul Weller… This year, the festival has many rootsy acts, all of which I would pay to see, including, of course, Bob Dylan. At £65 for a Saturday ticket it's a bargain considering this is the price you have to pay to see him some hideous venue such as the O2 arena.
And what a good day it was for a festival. The sun was out and there was nowhere to hide from it. Upon arriving at Paddock Wood Station we were driven to the festival in a large purple double decker (like one you would find in the Imperial War Museum with seats that were designed to fit five people but we are now so obese you'd be lucky to fit three in). After buying a purple (!) Gatsby style hat to protect me from the direct sunlight, the first act on (if you exclude The Magic Numbers which I will for the sake of my own sanity) was Johnny Flynn and the Sussex Wit. On the main stage they could either swim or drown. And swim they did, surprisingly making the crowd come alive early on this unbearably hot day and holding them captivated for the duration of the set.
Next we catch Laura Marling, also on the main stage. It's a testament to how small this festival actually is when you have acts like this playing out in the open air. And with someone like Laura Marling there's the fear that it may not translate on the mainstage. Luckily for her, she held the crowd, although she did lose me. Away from the intimate setting of the tents the music was lost on me; her voice, although beautiful and enthralling, didn't hold the same impact.
We stumble across some highly entertaining soccer six matches played between bands who don't really care about losing football against teams who seem to care enough to have brought their own football boots. There's even a team called Big Brother, I assume consisting of people still wanting fame of any kind.
Later in the day, Ray Davies put on a surprisingly good show; although he didn't perform Waterloo Sunset, we have a great dance and sing-a-long to Lola, You Really Got Me and Sunny Afternoon. In normal circumstances, I wouldn't deny Davies to follow through with his threat to "play all night if I want to" but when it's at the risk of missing Bob Dylan, I have to say, the thought was scary for a little while.
The main attraction of course was Bob Dylan. I had heard people can have one of two feelings after going to a Dylan concert. The first that it is entirely different to their expectations, he is older and doesn't perform the material they expected in the fashion they expected and hate it. The second is that it's Bob Dylan and despite the obvious difference in his performing style, to see the man perform on stage is enough. I came away from this experience with the latter opinion. There was not really any interaction with the crowd but they sang their hearts out to songs such as Rainy Day Women 12 & 35, Just Like a Woman, Like a Rolling Stone and Forever Young whilst Dylan sang them in a new manner. The band are excellent, and Dylan can still play the harmonica! Earlier in the day whilst queuing, we had overheard a young boy ask his father "who's that?" while pointing at a black and white picture of Bob Dylan. His father simply replied "Daddy's Hero". I'm sure after tonight's performance, this won't have changed.
SE